Hellenism in Greece is often confused with the Hellenistic Civilization, which starts right after Hellenism with the expansion of Greek culture under Alexander "the Great", son of Macedionian king Philip II.

The apparent similarities in the two stages - and why we tend to group them together - are deceptive.

The Hellenic period is the creative discovery stage intent on realizing an ideal through experimentation, whereas the Hellenistic period makes no major changes to the classic Greek standards.

HELLENISM

OR

HELLENIC PERIOD

The period is named after Hellen, grandson of the Titan Prometheus in Greek mythology (and not Helen of Troy).

The term is used to describe Greek culture that reached its peak in the 6th century BC with the statesman and general Pericles who studied under the sophist Damon and the philosopher Anaxagoras. He was also friends with the sophist Protagoras, the poet Sophocles, the sculptor Phidias, and the historian Herodotus.

Pericles wanted the citizens of Athens to take part in the city's functions. Amongst other social reforms members of a council were voted in democratically. Under his governance philosophic debate, the arts and the theatre thrived. However, he is held responsible in starting the Peloponnesian War that lasted seventy-three years, and attacking Spartan troups, allegedly to turn the attention away from accusations by his political opponents.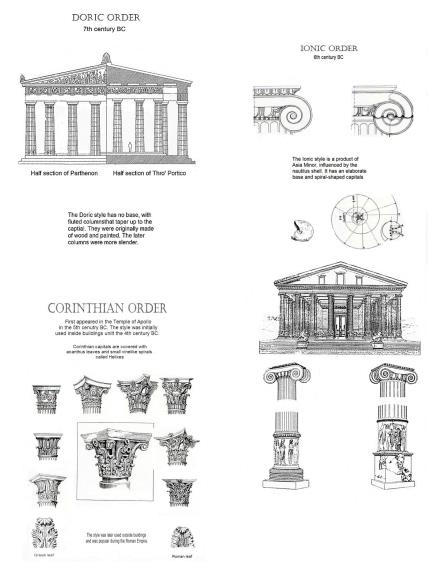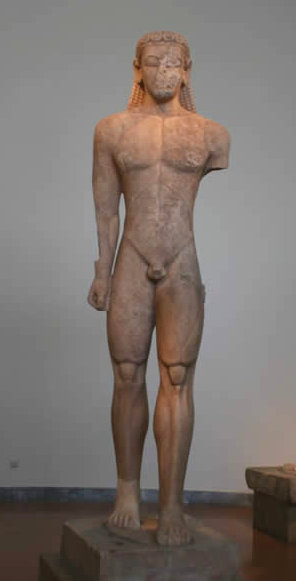 TUSCAN and DORIC ORDERS

8-7th century BC

IONIC ORDER  

6th century BC

Public buildings in Greece were built with limestone and marble, with bronze or iron pinions set in lead to ease the weight during possible earthquakes. Proportions were quintessential; even the optical illusion of a curve in the horizon was taken into account and made to "look" straight.

CORINTHIAN ORDER

c 2 AD

The most ornate, with eaves, leaves and scrolls.

COMPOSITE ORDER

82 AD

The name was given during the Renaissance to identify variations of the corinthian order up to the 2nd century.